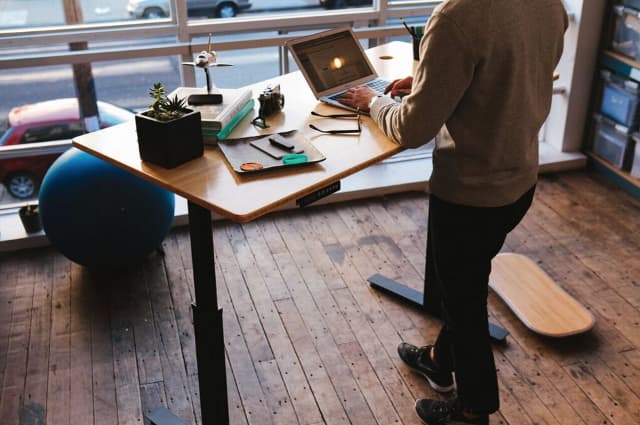 Best Height Adjustable Standing Desks
Best Height Adjustable Standing Desk when Buying on a Budget
Ah, the budget—always trying to ruin the fun!
If you've decided to invest in a standing desk, you're buying more than just a piece of furniture. Standing desks are like super powers that can change your life! Ok, maybe it's not quite like having super powers, but it's a lifestyle choice, a productivity booster, and a way to make work healthier and a lot more fun.
Getting a Height-Adjustable Standing Desk on a Budget
When shopping on a budget, there is one golden rule: make sure your buying decision is not based on price alone. You can always find cheaper products, but that race to the bottom in pricing almost always comes at a sacrifice in quality.
I think we can all agree: shortcuts may be cheaper and faster, but they aren't always worth the trade-offs.
No matter what your budget is, you can find a great height-adjustable standing desk that's just right for you. You may want a basic option or one with tons of great features, so let's take a look at what your money will get you.
Best Standing Desks For A SMALL Budget
If you're looking to spend as little as possible, you may want to choose a desktop standing desk converter for your current desk.
These options can certainly be kind to your wallet, and they are great for laptops. This presents some challenges when it comes to getting the most out of your standing desk. If you're working on a laptop, a standing desk alone won't be enough to get your back and neck in a healthier position. A laptop screen sits below eye level, which means you'll still be bent over while you work.
A standing desk converter will work for a desktop computer. If you plan to adjust the height throughout the day, you'll need a sturdy, high-quality option. 
If you have a little more room in your budget, you'll be looking at a higher quality desktop converter that can lift up to 35 pounds, is sturdy in the extended position, and allows you to alternate between sitting and standing throughout the day.
Work sitting or standing with this ultra-easy solution and enjoy all the benefits adding movement to your workday brings – increased productivity, energy and wellness.
Shop Standing Desk Converters
Best Standing Desks For A MEDIUM Budget
Want to graduate to a sit-stand desk that's fully functional? Our best budget, height adjustable desk isn't that much more expensive than a high-quality standard desk.
The entry model StandDesk comes in at $489. Yes, you can get a fully electrical motorized stand desk for under $500.
Where You Can Buy:
Standing Desks For A HIGHER Budget
This is an ideal budget for a height-adjustable standing desk if you want some additional features and a high quality product. For this price range, you can buy a motorized standing desk in your choice of color and style. 
A desk that can be adjusted with the push of a button? Yes, please! What about a desk with memory that allows you save your height preferences? I'll take two!
You can build your own standing desk by choosing frame color, and table top material, then add features you may be interested in, like cable management trays, integrated power strips, ergonomic keyboard trays, grommets with power and USB outlets, monitor arms, and additional desk support crossbars.
With one-touch digital height adjustment, 15-minute assembly, and free shipping, we believe HomeBase is the only standing desk your will ever need.
Build Your Own Standing Desk
Standing Desks For A VERY HIGH Budget
If you want to spend a lot of dough on your new height-adjustable standing desk, then there are certainly brands that will appeal to you. If you're willing to spend the big bucks, and you know where to look, you can find some amazing pieces of furniture.
What we see happen often, though, is that many of these products are similar in quality and features to the more affordable options. You may get a few extra bells and whistles at this price, but inessential features don't always translate to the higher value. In these cases, you're not just paying for the desk, but you're paying for their marketing, middle-men, and reseller fees all wrapped up in your piece of furniture.
Shop All Standing Desks
Finding the Best Price on Height-Adjustable Desks
We've all heard the phrase, you get what you pay for. It's true! If you really want to invest in a product that will improve your quality of life and work experience, then your main focus when buying a standing desk should be the quality of the desk and the ability of the desk to meet your needs.
Once you know what you want, then you can explore some options and see which one offers the most value for the price.
Shop All Standing Desks