How Much Does a Standing Desk Cost?
How Much Does a Standing Desk Cost?
Want to learn more about how much standing desks cost? Check out this breakdown of the costs for every type of standing desk.
Table Of Contents:
Standing Desks And Your Budget 
One of the primary buying decision influencers, regardless of industry, is cost. Every purchase is ultimately driven by a budget of some sort.
We often get the question, how much does your standing desks cost? Here's the straightforward, honest-to-goodness answer: it depends.
Thanks for nothing, right? Well, it's the truth, but here's a little more information on what influences the total cost of buying a standing desk. Let's take a look at what you can expect to pay and what you will get for that money.
How Much Does a Standing Desk Cost?
Just to make sure we're clear, a standing desk is a desk you stand at. Ok, you probably figured that one out already, but we need to understand that not all standing desks are created equal. In most cases you can find Standing Desks from StandDesk.Co that cost between $100-$2000 depending on the type of desk.
There are several standing desks with different features and designs available. This is great because it allows you to find the desk option that will be the perfect fit for your needs, although, it also means there are a lot of decisions to be made.
Sometimes, more choices mean more frustration, not less. So let's break down those choices...
How Much Does a Standing Desktop Converter Cost?
Some of the "standing desk" options available are made to sit on top of your current desk. Basically, you're buying a mini desk that holds your computer or monitor and keyboard. Some of these desk converters, or monitor risers, are height adjustable and others are stationary.
This option can cost anywhere from $100 to $450, but keep in mind that this price is only for an add-on to the desk you're already using.
Work sitting or standing with this ultra-easy solution and enjoy all the benefits adding movement to your workday brings – increased productivity, energy and wellness. 
Shop The Standing Desktop Converter
How Much Does a Sit-to-Stand Adjustable Desk Cost?
A sit-to-stand desk is height adjustable and allows you to transition from sitting to standing. Some of these designs make it easy to change your working position during the day, and others... not so much.
Your basic sit-to-stand desk, with no bells and whistles, start at about $180 and go up from there.
There's one major downside to a plain ol' sit-to-stand desk: if it isn't easy to adjust the height quickly, as you'll have to manually crank it up or down by hand. More than likely you'll leave it in one position permanently rather than going through the hassle of manually adjusting the height.
Then, when your feet are screaming to take the load off, you'll be at the mercy of the immovable standing desk. The internet is full of folks who have failed to take into account the work involved in adjusting their sit-to-stand desks.
For what it's worth, a desktop converter that can be raised and lowered easily is a better choice than a manual adjustable desk.
How Much Does a Electric Sit-to-Standing Desk Cost?
If you plan to transition between sitting and standing at a desk throughout your day, then an electric standing desk is the way to go. Electric sit-to-stand desks allow you to adjust the height with the push of a button. The added feature means it costs a little more, but it's totally worth it!
Electric sit-to-stand desks can cost anywhere from $480 to $2,000, depending on the quality construction, features, and engineering.
Designed and built in Denmark, HomeBase brings commercial-grade materials and engineering into your workspace with over 100+ customizable sizes, colors and worksurface combinations.
Build Your Own Standing Desk

Add Desk Memory for Even More Convenience
Most electric sit-to-stand desks have a two-button control to move the desk up and down. That's great and all, but what if your desk had memory? It could move to the perfect height at the touch of a button. Well, some do!
These desks allow you to program height presets, like the perfect standing and sitting heights, so you can literally sit-to-stand with the push of a button. You'll get the height right every time, which is important for achieving perfect working posture.
Standing desks with memory start at about $600.
Additional Standing Desk Features
There are a ton of other great features that you can add on to your standing desk, like a monitor arm, ergonomic keyboard tray, cable tray, or integrated power strip. Unlike StandDesk, some standing desks consider wire grommets an add-on.
The cost of standing desks will vary based on company, quality, and features, and as well as a number of other factors. It's best to shop around and decide exactly what you want. Then, sit back (or stand up) and enjoy the freedom to work the way you want.
Are Standing Desks Worth It?
Yes, standing desks are absolutely worth it. Standing desks have shown to help boost your activity levels, your mood, and increase productivity. The simple act of switching out a traditional desk for a standing desk can have a significant impact on your health and your life. 
To find the right standing desk for your office, check out the link below.
Shop All Standing Desks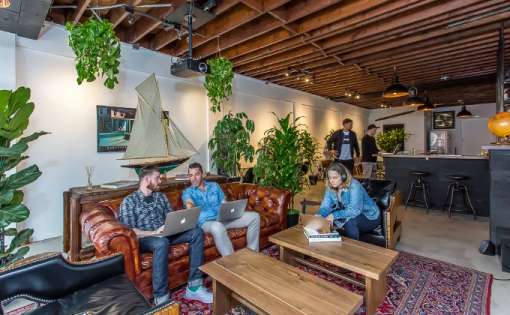 Is Co-Living as Beneficial as Co-Working?
Is Co-Living as Beneficial as Co-Working? Ask any millennial who lives in a city with outrageously high rent and they'll all likely agree: as a generation, we may be getting married later and havin...
Read more