11 Tips for Effectively Working Out of a Cafe (And Loving it)
11 Tips for Effectively Working Out of a Cafe 
It's 2021 and the work-from-home lifestyle is stronger than ever. We millennials are realizing the stagnant office life is dead and the option of working anywhere is absolutely, 100 percent alive. Hallelujah! Although working from home in our pajamas (or naked) can be glorifying and freeing, it can get lonely. It can also be a sure way to gain 15 pounds. Nobody is judging you for shoveling cold pasta in your mouth when you work from home, unfortunately. That's why coffee shops are sometimes the answer to all the problems we freelancers have. As someone who's worked out of cafés and coffee shops for the last 3 years, I will be your coffee shop guru for effectively working from any café in the world! Let's begin.
1. Prepare for the worst
You find the ideal spot, plug your laptop in, order a perfectly prepared drink and find a flawless work rhythm. The last thing you want to do is leave, right? That's why you have to prepare for the absolute worst. Bring your headphones for the loud talkers/mouth breathers, pack a cell phone charger for emergency battery issues, tuck away tampons for the ladies, tissues for the allergies and Advil for the headaches.
2. Bring a portable mug
If your own a portable, stylish mug you'll most likely get a small discount (10 cents off at Starbucks), help the environment by using less paper, and if you order a small size, they'll probably fill up your large cup all the way. Unless the barista hates his/her job. Either way, it's a little cheaper, you're (kind of) saving the rainforest and you'll look like a regular.     
3. Wait for the perfect spot
Finding the right table is one of the most important things about working in a café, but sometimes that one ideal location is unavailable. In order to snag that cozy booth or stylish barstool, wait it out. Find a less desirable table, begin working and the minute that special table opens up, grab it as quickly as humanly possible. It's okay if you look like a weirdo; you've got work to do.
4. Pack your own lunch or eat before
Although prices in cafés or coffee shops are often reasonable, hummus packs, protein smoothies and cold cuts add up faster than you think. I recommend packing your own lunch, and ordering a non-specialty coffee. That way it's cheap and easy, and they can't possibly kick you out because you are a paying customer.
5. Make friends with the baristas
Think of the baristas as your co-workers. You may be coming to this café every day for the next two years. The better you treat people, the better they'll treat you. They might even hook you up with an extra shot of espresso, a tasty treat or invite you to that sold out show you've been dying to see. You could also make a new friend out of it. It's a win-win.
6. Find an independent coffee shop
If you're worried about spending more money on coffee than you're making, don't go to Starbucks. Find an independent coffee shop. Local coffee shops are often cheaper, play better music, and the people-watching is phenomenal.  If you're still paranoid about using your hard earned cash, take all those quarters, nickels and dimes you've been collecting over the years and put them to use. Don't stress about being that person who's using exact change at the register; all the cool kids are doing it.
7. Do your research
Be sure to look up the hours of operation before you head to your coffee shop of choice.  Call ahead to make sure they have convenient business hours, offer free WIFI and seem genuinely friendly. The last thing you'd want to do is travel there, get comfortable and have to leave in 20 minutes. It could interrupt your very important train of thought and cost you a big business deal.
8. Charge all of your gadgets
Charge your devices ahead of time and/or overnight.  This will eliminate the need to sit by a plug and will reduce any added stress in your already hectic life. It's also wise to invest in a portable phone charger. They're convenient, clever and many are fairly cheap. If you've got the dough to buy a portable laptop charger, it'll be well worth the money to not have to plan ahead for battery life. Of course, you can always just sit by a plug, especially if you plan to be there all day.  Be sure to take into account the proximity of the nearest plug when waiting for that perfect spot. 
9. Plan for parking
Factor in parking (especially if you live in a bustling city)! If your café offers limited parking and isn't walking distance from your home, ditch the place. Parking costs money, causes anxiety and takes time. If you live close enough to walk to a coffee shop, definitely try that one first. Just think! Your morning commute could be a pleasant sunny stroll.
10. Never leave your laptop unattended
Drinking coffee non-stop usually means using the bathroom non-stop. Although this may be obnoxious, take your laptop into the bathroom every single time. Leave your book bag, notebook or coffee on the table to save your supreme spot, but never gamble on leaving your laptop. It's not worth the risk.
11. Mix things up
While I recommend having a primary "home base" coffee shop, never fear exploring other cafés. Working at the same place every day is what office jobs are for! We freelancers have the option of going anywhere we want whenever we want, so venture out and discover more. Some of our best inspiration comes from trying new things!
Want to build your own standing desk? Check out this link to find the Standing Desk that works for you: Build Your Own Standing Desk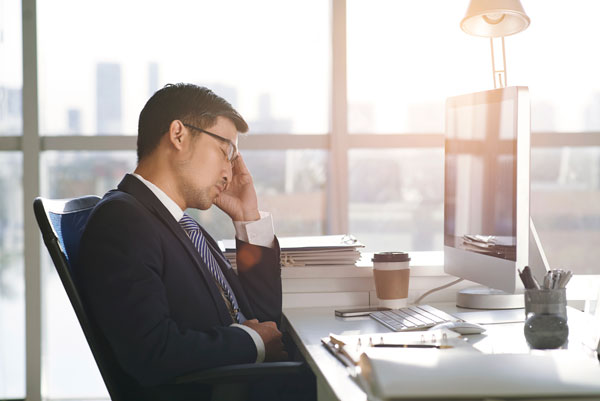 6 Ways to Stay Active at Your Desk
6 Ways to Stay Active at Your Desk Take a moment and think about how many hours per day you spend at your desk. Then think about the amount of time you spend at home, on the couch, in the car, or i...
Read more