The Best Standing Desk Riser
The Best Standing Desk Riser
Standing has gained popularity among office workers as well as entrepreneurs as they work at their desks. It can't be denied though that being able to stand while working allows you to stretch your body and thus discourages a completely sedentary lifestyle. Furthermore, studies have revealed those who use standing desks are more productive than employees who are doing the same work while sitting.
Shop All Standing Desks
Buying a standing desk riser is a good option if you want to get into the standing-while-working habit but you currently have a traditional desk that you can't let go yet. But the question is: what's the best adjustable desk riser among the many products available in the market?
The truth is that the perfect riser will generally depend on what you do. Let me show you some of the features you might want to look out for. 
The standing desk platform riser you'll ultimately choose will depend on the type of devices you use, and thus, you need to look into the weight capacity of the product. There's a huge difference between the total weights of two monitors versus a single laptop.
If you're a laptop user who typically use a second monitor for work, consider looking into risers with load limits of at least 30 pounds such as the DeskRiser standing desk converter with 50-pound capacity or the Varidesk Pro Plus 48 with 45-pound capacity.
When it comes to workstation ergonomics, it is recommended that the top portion of your monitor is at eye level while your forearms are parallel to the floor with your hands just sitting above the keyboard. This is true for both sitting and standing positions, and thus, the best computer riser standing desk add-on is one that has two levels -- a top level for the monitor(s) and/or laptop and a lower level for the keyboard and mouse. An example is the VariDesk Pro Plus 36 or the Halter ED-258.
For greater convenience especially when you'll be away from your desk, you might want to consider one with a keyboard tray that can slide out from under the top surface such as the Rocelco ADR Desk Riser. This is also ideal for work areas with small spaces.
Shop All Standing Desks
 Portability (Especially for Laptop Users)
If you're considering a desktop riser standing desk add-on as a temporary thing especially when you're only using a laptop for work, look at the ones designed for higher portability. Obviously, you'll need a riser that you can conveniently put on the table and take away after using. It's even a big bonus if it can be folded to fit into narrow storage areas for a more space-saving benefit.
Some of the available options in terms of portability include the Oristand cardboard standing desk, Stand Steady traveler folding riser and Standee Classic bamboo riser. Of course, don't forget to test the durability and stability of the adjustable standing desk converter models you're considering.
A Full Standing Desk vs. Premium Desk Risers
Laptop users may have a great advantage of enjoying low-cost desk risers for standing desks due to the weight of their gadgets. If you are a dual-monitor user or a standard PC user, however, you will have to consider the premium ones that are more durable and have a higher load capacity.
But with the high price of the premium risers, you will already be able to purchase a more stable and more spacious sit-to-stand desk that can stand firmly on the floor and comes with an electrical mechanism that silently adjusts the height at a press of a button. Consider the likes of Ergo Depot Jarvis Bamboo as well as the wide range of customizable StandDesk standing desk.
Shop All Standing Desks
The Best Standing Desks for Students
The Best Standing Desks for Students  In today's world, students depend heavily on their laptops or desktop computers for both study and play. Shop All Standing Desks And although this tech allow u...
Read more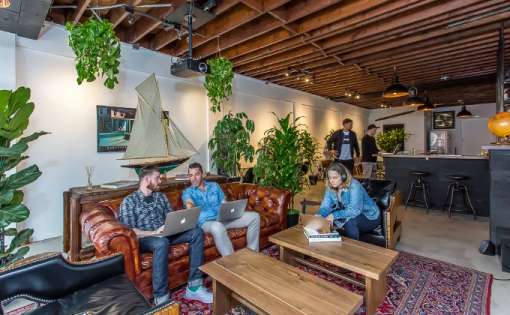 Is Co-Living as Beneficial as Co-Working?
Is Co-Living as Beneficial as Co-Working? Ask any millennial who lives in a city with outrageously high rent and they'll all likely agree: as a generation, we may be getting married later and havin...
Read more